Poker Guides & Strategy
---
General
Sit and Go Strategy
Sit and Go Bankroll Management - A guide to money management for Sit and Go poker - when to move up a level and how much you need depending on whether you are a pro or recreational player.
Sit and Go's for Beginners - A strategic guide to the special tactics needed at each stage in a sit and go, how should play style and hands be different before and after the bubble.
Independent Chip Model (ICM) - What is the Independent Chip Model (the ICM) and how to use it in Sit and Go's for a more advanced winning play, includes free ICM calculators.
Cash Game Strategy
Cash Games Bankroll Management - If you're going to earn consistently playing poker, then you need a poker bankroll, and then you need to learn how to manage that bankroll. Learn how here.
Beginners Guide to 5 Card Draw - 5 Card Draw poker tips & strategy for beginners - A basic guide to five card draw throughout the game to maximize your chances of success.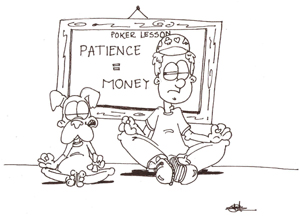 Tournament Strategy