Tournaments – The Bubble
---
Having successfully navigated the early and middle stages of an online MTT the next challenge you will face is the point where just a few more players need to bust before the paying places – the bubble. Strategy at the bubble is, to a large extent, dictated by your stack size. Here we will suggest that your strategy should adjust towards your 'key objective' of reaching the final table – and not simply to cash.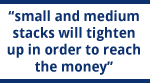 Your opponents will be looking at the bubble in a variety of ways, based on their own stack sizes and their approach to the tournament in general. Many players, particularly those with small and medium stacks, will tighten up in order to make the money – avoiding too much risk until they have the minimum payout secured.
Before looking at the details of opponent's strategy – and the adjustments you should make – we should see how your 'key objective' of reaching the final table should affect your own bubble strategy. Look at it this way, taking some risks at the bubble will result in you missing out on any money at all on many occasions. However, those times those risks succeed you will have a real chance of making the final table. For example, if out of 10 attempts you bust out in 6 and reach the final table in 4, you will make far more money than if you had 'tightened up' in order to cash all 10 times.
The phenomenon of opponents 'tightening up' at the bubble presents you with an excellent opportunity to steal blinds and antes. The key here is to ensure that you are the first player to raise – and that the players yet to act have the right stack sizes.
Being first into the pot at the bubble will succeed in stealing the blinds a good proportion of the time. At the critical stage of the tournament you will simply not be called by anything but the best hands. Both short and medium stacks make excellent targets in this situation. The short stacks will be desperately trying to fold into the money and the medium stacks are 'comfortable' enough not to take too much risk without a very strong holding.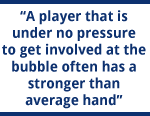 If a medium stack has entered the pot with a raise ahead of you, especially with big stacks still to act, you will need to be cautious. A player that is under no pressure to get involved at the bubble often has a stronger than average hand for the situation. Of course if this same player is raising often to take advantage of a tight table then you may have a profitable re-steal opportunity.
In fact large stacks who (correctly) 'bully the table' at the bubble can lead to potentially profitable situations. Since they are raising with such a wide range of hands you may find a situation in which even a moderately strong holding can be used to re-raise all-in. If you are called then your hand has some decent winning chances – if not then you can grow your chip stack for a run at the final table with those extra chips. Once again whether to risk this kind of move depends on your overall objective, just remember that the final table will easily pay for 10 small cashes!
To summarize, MTT tournament strategy at the bubble involves awareness of stack sizes and the effect these will have on your opponent's actions. This can be a great time to pick up the aggression and steal chips. However if someone has entered the pot already then you generally need a strong hand in order to play.
See the other articles in the series:-