Satellite Tournament Strategy
---
You'll find satellite tournaments at all online poker sites. These range from small buy-in satellites to larger online events to staggered buy-in satellite routes to leading live events such as WSOP qualifiers. Satellite tournaments come in a variety of formats including rebuys, turbo blinds and even sit and go's. This article will look at the poker strategy adjustments required to succeed in online satellite tournaments.
We will start by looking at the nature of the payout structure – the number of seats in the 'target tournament' compared to the number of players in the satellite being key information. Next the early stages will be covered, including the range of opponents you might meet in a satellite. The main discussion will cover the run-up to the bubble and the bubble itself – this is where the major strategy adjustments for satellite tournaments are required.
Before you play a hand in a satellite tournament you must be aware of how many participants get paid. This will have a major impact on your overall strategy. For example if only the winner gets a seat, your approach is completely different to a satellite with 100 players in which 10 seats are awarded. The key thing to remember with multiple payout satellites is that you do not need all of the chips in order to win – in the later stages of satellite tournaments survival is more important than chip accumulation.
Satellite tournaments attract a wide range of players, especially where seats in large televised tournaments are awarded. You may find yourself facing some of the toughest 'online pros' around at exactly the same time as a selection of complete novices taking a shot at the big event. Without prior knowledge of which player type is which you will need to be observant. Look for characteristics such as calling raises out of position, inappropriate bet sizing and playing too many 'easily dominated' hands – these are characteristics of the less experienced opponents who will become your targets.
While the later stages of online satellite tournaments are all about survival, chip accumulation is very important during the early stages. If you reach the middle to late game with a small stack then your opponents will simply wait for you to bust out – building a stack with solid, positive and aggressive play in the early stages becomes a must. With many weaker opponents there will be opportunities to play hands, such as small pairs and suited connectors, which have the potential to win someone's entire stack when they connect well with the flop.
Aggression needs to continue through the middle stages of a satellite tournament too, your objective is to build enough of a stack that you are not on the 'danger list' when it comes to the bubble. Opponents will be reluctant to risk the stacks they have built up without a solid hand – so make sure you raise many pots when folded to in later position to steal the blinds.
The bubble is where strategy really changes in a satellite tournament compared with a standard tournament payout. As the 'bubble' approaches you will need to be aware of the stack sizes of all of your opponents – potentially across several tables. The key strategy is to avoid any risks at the bubble that could decimate your own stack while there are players who are about to be blinded away. In a situation where there are several tiny stacks present and only one more to go before the paying places this strategy can be taken to extremes – for example folding a pair of kings pre flop to a single raise.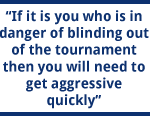 If your own stack is on the smaller side then the same logic applies where others will be blinded away first. If it is you who is in danger of blinding out of the tournament then you will need to get aggressive quickly. Pushing all your chips into the pot when a medium stack is in the big blind will often give you the best chance of stealing – especially when that player would lose a good proportion of their chips by calling you and losing.
Conversely, with a big stack you can keep the pressure on others at your table. At the same time you need to remember that you gain no real advantage through accumulating more chips. Strategies here include raising many pots when folded to – especially when the shorter stacks at the table have folded.
To summarize, satellite tournament strategy rewards survival and not chip accumulation – but only at the bubble! During the early stages you should try to identify weaker opposition and play positive, aggressive poker in order to build a stack. Bubble play is influenced by stack sizes and not your cards. If you are able to safely 'fold into the money' then there is absolutely no advantage to taking unwarranted risks! Good luck!