Best Poker Bonuses 2023
---
Poker Site
Deposit
Match
Maximum Bonus
Bonus Code
Time Limit
Minimum
Deposit
100%
$600
+ £20 / $88 No Deposit
Use Link

90 days
$10
100%
€365

none needed

60 days
€5
100%
$1000

1658328

30 days
$20
200%
$1,000

1000ITP

90 days
$20
100%
$2000

VIP1000

60 days
$50
1. 888 Poker
888 Poker offer their new UK players a £20 no deposit bonus, players worldwide, except UK, will receive $88. In addition to this no deposit bonus we can offer new players an exclusive, special 100% match bonus worth up to $600 (instead of the usual $400) on their first deposit when links from this site are used. Minimum deposit $10. This how the 888 bonus works: players earn points as they play at a rate of 2 bonus / status points for every $1 contributed in rake or tournament fees. Then, for every 100 bonus / status points earned $10 of bonus will be released into the new players' poker account. Players get 90 days to release the free bonus cash. 100% up to $600 plus
£20 / $88 FREE no deposit required.
2. Bet365 Poker
Bet365 Poker offer their new players a €5 no deposit bonus plus a100% opening bonus worth up to €100 - use the bonus code 365VIP to be sure. Minimum deposit €5. Merit points are earned whilst playing at a rate of 15 points for every €1 in tournament fees or attributed rake and these points release the bonus funds at varying rates as follows:
€1 for the first 50 Merit Points earned,
€4 for the next 300 Merit Points earned then,
€5 for every 450 Merit Points earned up to the value of the matched bonus up to €100.
Players have 60 days to release the bonus. Use bonus code
none needed
for 100% up to €365 plus
FREE, no deposit.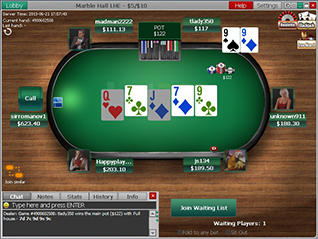 4. Bovada
Players from the US are eligible for a welcome bonus of 100% up to $1000 when the code 1658328 is used. The welcome bonus cash is released as follows:
| | | | |
| --- | --- | --- | --- |
| Level | Poker Points | Bonus Issued | Total Bonuses |
| 1 | 50 | $10 | $10 |
| 2 | 250 | $40 | $50 |
| 3 | 750 | $100 | $150 |
| 4 | 1500 | $150 | $300 |
| 5 | 3000 | $300 | $600 |
| 6 | 5000 | $400 | $1,000 |
Points are are earned based on the amount contributed to the house either in rake in cash (ring games) or tournament fees. In tournaments 3 points are awarded for every $1 spent on tournament entry fees. The points you earn while playing ring games are based on the rake you contribute as follows:
Rake $0.01 - $0.04 = 0.05 points
Rake $0.05 - $0.24 = 0.10 points
Rake $0.25 - $0.49 = 0.25 points
Rake $0.50 - $0.99 = 0.50 points
Rake $1.00 - $3.00 = 1.00 points
All issued bonuses are based on the Poker Points you earn within 60 days of your first deposit. Use bonus code
1658328
for 100% up to $1000.

Visit Bovada
What are poker bonuses?
Did you know that when you join a new poker room you can expect to receive a juicy little first deposit bonus to welcome you into the fold? Online Poker today is a very competitive industry and all the leading sites are offering you extra cash as as incentive to sign up at their room. Good news indeed.
Most of them have requirements you need to complete to achieve your bonus, it's not exactly free money! These requirements are there for a reason, they want you to stick around long enough to get a real feel for their software – so let's see the best deals on offer right now:-
Now, player beware! These oh so tasty sign up or welcome bonuses may not be all that they seem or should I say they may be not be obtainable by you! Take heed of the following:-
How is the bonus earned?
When comparing the 1st deposit bonuses available to you take into account how hard they are to earn. With all online poker sites the more you play the more points you will earn, but on closer inspection it soon becomes clear that with some sites you would have to take a week off work to play enough poker to earn the points required by the playthrough requirements! We have used this factor in deciding our top bonuses listed above.
One thing all sites have in common is that the number of points you earn are related to the amount of money you put into the game. How you earn your points may be expressed as follows:
20 online poker points will be awarded for $1 spent in tournaments fees – the fee is the + bit, e.g. if a tournament is listed as $10 + $1 then the $1 is the fee and in this example you will have earned 20 poker points.
With ring (cash) games the points are awarded on a sliding scale depending on the size of the rake you have contributed to. The rake is the small percentage taken by 'the house' in a cash game and is usually capped at $5 per hand or thereabouts.
How is the bonus released?
Most online poker sites will release your welcome bonus in chunks of $5 or $10 so, once you have earned enough points then the cash is automatically transferred into your account. This way, if you are not able to play the volume of poker needed to cop for all the bonus on offer, you will still get a proportionate bonus which seems very fair to me.
There are a few poker sites out there which insist on all the points being earned to release the bonus in one payment which can simply make the tempting bonus unobtainable to most players – NONE of the sites we list have ridiculous requirements for their bonus, they are all set up to encourage not alienate players.
Time Limits?
This is more food for thought – and very relevant too – it's the time limit of how long you have from signing up and making your first deposit to earn your welcome bonus. This does vary widely between online poker sites and is always pointed out clearly in the table above. There's absolutely no point in signing up for a brilliant incentive bonus just to find out that you simply won't have enough hours in the day to earn any cash.
The time limits on our recommended sites vary from just 30 days to a more generous 120 days so pay attention to this factor, it could make a huge difference to how much bonus you will be able to claim.
What Next?
Earning points continues to be profitable, even after you've claimed your full bonus. Most sites run loyalty clubs where the more points you earn, the higher your status, allowing you to collect as you play. You can then exchange your points for cool merchandise or tournaments where you can buy in with your points.
Reload Bonuses
The deposit bonuses continue too, keep your eyes peeled for reload bonuses which run along similar lines to welcome bonuses for regular players, all good news for online players.
I hope that you have found the above information useful and that our research will help you to make the most of the incredible poker bonuses on offer out there on planet poker. There's never been a better time to sign up with a new account, the incentives are huge, just take a little time to make sure that the site you choose has the right welcome bonus for you.
Good luck at the tables!