Tournaments – The Middle Stages
---
In the first article in this series we looked at the early stages of MTTs, stressing the importance of accumulating chips and adjusting to deep-stacked play. Here we will continue by looking at the critical middle stages of poker tournaments. This is the time when the blinds have increased in proportion to the average stack and 30% to 50% of the players have already been eliminated.
Success in the middle stages involves awareness of several factors. Firstly, the changing value of different starting hands needs to be looked at. Secondly, the role of stack sizes – including both your own and those of opponents still in a hand – need to be considered. Finally, the value of being the raiser, not the caller and playing positive aggressive poker are important to middle stage MTT tournament strategy.
Starting hand selection is affected by the depth of your stack and those of opponents still in the hand during the middle stages of an MTT. For example, those small pairs which were playable while the stacks were 'deep' can often no longer be used to call bets. The reason is that, with blinds at 10% of your stack (for example), the implied odds are no longer in place – you will not be paid enough when you do hit a set to make up for all the times you miss and need to fold after the flop.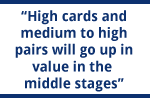 High cards and medium to high pairs will go up in value in the middle stages, especially when you are the first to enter a pot. Since calling a raise will take a large percentage of your opponent's stack in many circumstances there is a lower likelihood of being called. Those times that you are called your high-card strength may enable you to hit a hand or provide valuable backup should you wish to continuation bet after missing the flop.
During the middle stages of MTTs stack sizes start to become an important factor in your decision making process. Stealing pots, by taking the blinds or raising after players who have limped, becomes important to maintain your stack position. Awareness that those players with either very large or very small stacks are more likely to call your raises is a critical factor. Big stacks can afford to see a flop, especially in position, and can force you into difficult decisions should you miss your hand. Small stacks may re-raise all in with a medium strength (or better) hand in order to 'gamble' on a double-up. If you have raised with a vulnerable holding you may be forced to call the short stack's all-in due to the pot-odds on offer. This would show the table that you raise without solid values – increasing the chances of being played back at in later hands.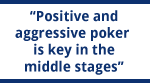 Positive and aggressive poker is key in the middle stages. The shallow stacks compared to the blinds (and possibly antes) mean that you should rarely, if ever, call a raise. Instead you should look to open raise when folded to with a range of hands (bearing in mind the stack sizes and tendencies of opponents still to act). You should also look for opportunities to 're-steal', that is coming in for a large re-raise when an opponent you know raises with a wide range has entered the pot ahead of you. Some hand strength is required for those times you do get called, however, against the right opponent this should work a good proportion of the time. Tightening up and waiting for a hand is not a great option in the middle stages – your positive and aggressive play will enable you to chip up for the all important next step, the bubble.
To summarize, MTT tournament strategy for the middle stages involves taking into account several factors. Starting hands change value – particularly when the first to enter a pot. Stack sizes (both your own and those of opponents) also influence your decision making. Your objective should always be to play positive and aggressive poker during the middle stages – in order to have a viable shot at the lucrative final table.
---
See the other articles in the series:-