Chris Ferguson
---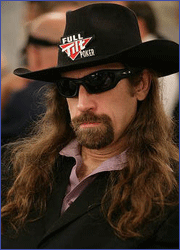 Nickname: Jesus
Birthdate: 11th April 1963
Birthplace: Los Angeles, California
Residence: Pacific Palisades, California
WSOP Bracelets: 5
Biggest Win: $1.5 million
Total Winnings: $8,281,927
Sponsored by: Ex Full Tilt Poker
Chris's approach to poker is a mathematical one, as might be expected, given that his parents both have an educational grounding in math. His father, Thomas, teaches statistics and game theory at the U.C.L.A. and as a youngster, Chris had the opportunity to try out many games including ones invented by his father. He followed his father to the University and majored in computer science, specifically the field of Artificial Intelligence, achieving a PhD and studying for a total of eighteen years.
Ferguson is a practicing research assistant by trade and has also done freelance work as a consultant for the Bureau of Census and the California State Lottery. Between this and poker he still manages to find the time to regularly hit the ballroom dance floor, preferring the West Coast Swing to more static styles, and has even participated competitively.
It was during his college years that he sharpened his poker ability, playing in internet chat rooms. In 1993, he began to study the intricacies of poker tournament play seriously, using computer models to simulate all the hand possibilities and their respective chances of winning. In 1995, when he had finished one arduous nine-month study on heads-up play, he showed his findings to his friend, poker professional Andy Bloch.
Other players had doubted Ferguson's deductions but Bloch just pulled a piece of paper from his pocket showing a remarkably similar set of conclusions that he had worked out for himself. In 2008, Ferguson played Bloch in the final of the NBC National Heads Up Championship, saying 'It is not an accident we both made the final table' though, that day, Chris's formulae came out on top.
However, he is aware that the mathematics of the cards can only get you so far and he tries to read his opponents' playing styles, as opposed to their body language, and disrupt their natural playing tendencies. That said, he doesn't believe that there is one basic way to play poker and that strikingly different approaches can have equal success.
For tournament poker, Ferguson considers concentration and focus the most important factors, especially if you want to reach the place he likes to play the most – the final table, somewhere he finds himself playing remarkably often.
Chris put together the team that developed the Full Tilt Poker software and was actively involved in the site, writing articles and passing on poker wisdom. He set himself the task of winning $10,000 with a starting bankroll of nothing, on Full Tilt Poker. It took him a couple of months to progress from freerolls to cash games but he achieved his aim within about a year. He played to a strict set of rules to avoid going bust and they serve as a good framework for responsible gambling at any cash level.
He is reputed to have a photographic memory and can throw a playing card so fast that he can slice a carrot in half! Of his poker image of cowboy hat, long hair and goatee he claims it is a piece of misdirection so people don't recognize him for the college graduate he really is. His hair and beard have earned him the nickname 'Jesus' or perhaps it's because that's the exclamation people utter when they see his long list of achievements and see his shame too.
On September 20, 2011 the United States Department of Justice amended an existing civil complaint against Full Tilt Poker, of which Chris Ferguson was a director. The amended complaint alleged that Chris Ferguson, Howard Lederer and Rafe Furst "lined their own pockets with funds picked from the pockets of their most loyal customers while blithely lying to both players and the public alike about the safety and security of the money deposited".
In total the money paid to themselves is thought to be at least $444 million. From at least April of 2007, it is alleged Chris Ferguson took just under $60 million in Full Tilt distribution payments. A lawyer for Ferguson has denied the allegations, suggesting that the issues may have been the result of mismanagement not malice.
WSOP 2000
The 2000 World Series of Poker had begun successfully for Chris Ferguson, having already won the WSOP Limit 7 Card Stud and reached the final table in Limit Razz and Limit Omaha Hi/Lo. But that was before the big one, the No Limit Texas Hold'em World Championship. It was down to him and legend T.J. Cloutier and both were fairly equally stacked.
T.J. had fought his way back into the contest and almost evened up his chip deficit. Ferguson was looking tired, he had taken his cowboy hat off and was running his hand through his long hair. He looked a picture of nerves up against Cloutier, who appeared composed, taking slow drags from his cigarette. Chris, with an A♠ 9♣, raised the blind before T.J. called 'all in.'
Ferguson, his brow furrowed, said 'Well, I'll gamble with you' but while speaking he was shaking his head, revealing his doubt. When T.J. turned over his cards, revealing A♦ Q♣, Ferguson gave another shake of his head. He was slightly ahead on the chip count but losing the hand would mean it would only be a matter of time before he lost the contest.
The flop was 2♥ K♣ 4♥ and there was quiet in the Binion's Horseshoe Casino. The turn was K♥ meaning a paired board could split the pot but instead, when the river card was turned, it was a 9♥. Ferguson jumped up, arms aloft but still with an eye on the laid out community cards, as though he couldn't believe it. The river 9♥ had just won him $1.5 million and his second WSOP bracelet in as many weeks.
Last updated May 2013