Tuan Lam
---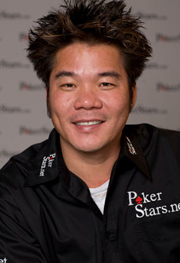 Birthdate: 1st January 1966
Birthplace: Vietnam
Residence: Toronto, Canada
Biggest Win: $4,840,981
Total Winnings: $4,851,424
Sponsored by: Ex PokerStars
Tuan Lam was born in Vietnam and the background to his childhood was a brutal war that was beyond his comprehension. He managed to flee the country when he was sixteen only to end up in an Indonesian refugee camp. At nineteen, he found his feet on Canadian soil and it has since become his adopted homeland. When he first arrived, he began working as a general laborer moving from job to job trying to earn enough money to keep himself and his wife, occasionally managing to set some aside to send back to his family still in Vietnam.
Tuan learnt the game of poker from his new work friends and, armed with this knowledge, began moonlighting as a dealer in a nearby casino. Part of his job description required him to play the role of a punter during the casino's quieter moments and, anxious not to be found out, Lam bought a couple of books and swotted up on poker theory. He soon found he had a talent for the game and before long gave up the day job to tour the casinos of Canada and the United States as a professional player.
He concentrated on cash games and though Lam's success wasn't astronomical, it was enough to support his Canadian family now with two extra additions and still send some cash back to the Asian continent. Tuan Lam was exclusively a cash player until 2005 when he decided Las Vegas and the WSOP was worth a visit. He cashed in the only tournament he entered and repeated the feat the following year.
You could probably have got good odds betting that the final two of the 2007 WSOP main event's 6,358 entrants would be Asian immigrants to North America with barely any tournament experience between them. Add to your bet that both had to have endured the hardship of a refugee camp existence and you might even have secured the sort of sum that sat on the final table as Yang and Lam went heads up. With the struggles of their earlier lives still very much on their minds, both have donated large sums to charitable causes. In Lam's case this has seen him set up projects in Vietnam and he often returns there to oversee their progress.
A larger part of his time was spent with his family though he was active in the poker world, he joined Team PokerStars but is no longer with them today. After his second place finish in 2007, he said poker had got tougher as 'people want to bust me' and soon disappeared off the scene. Lam is a strong, focused character and having come this far it's a mystery why he has not remained on the tournament circuit.
WSOP 2007
Tuan Lam had the second highest chip stack at the beginning of play at the final table of the 2007 World Series of Poker main event. When it came to heads up against Jerry Yang he was still second but with less chips than he had started the day. In the first ten hands of heads up play Lam, who had been passive for most of the session, went all in on three occasions leaving his chip count at 20,800,000 against Yang's 106,775,000.
It seemed a mammoth task but Tuan was within two double-ups of taking the chip lead. In hand eleven, Yang called a raise with pocket 8♦ 8♣ and Lam, seeing an opportunity went 'all in' with his A♦ Q♦. Yang called him and Tuan threw his cards down with a flamboyant flick of the wrist. 'Yes,' he exclaimed, 'I'm going to do this for Canada!' Lam still needed help but the flop provided it with a 5♠ Q♣ 9♣.
He reached for a Canadian flag and held it above his head. The turn was a 7♦ and while Lam prepared to jump into the air, Yang had his hands together as though in prayer. The river was a 6♥ and Tuan Lam's jaw dropped in disbelief. Jerry Yang had hit a nine high straight and had taken the title. The room erupted and Yang's high-pitched celebrations were drowned out by the chant of 'U.S.A! U.S.A!' Lam was consoled by his wife and later by the $4.8 million he won from coming second.
Last updated July 2013