Paul Wasicka
---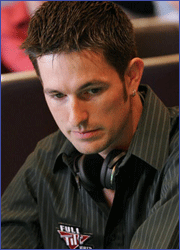 Nickname: Kwickfish
Facebook: OfficialPaulWasicka
Twitter: @Kwickfish
Website: www.kwickfish.com
Birthdate: 17th February 1981
Birthplace: Dallas ,Texas
Residence: Las Vegas, Nevada
Biggest Win: $6,102,499
Total Winnings: $7,844,998
Sponsored by: Ex Full Tilt Poker
Paul Wasicka believes a competitive drive is crucial to success and this drive was apparent in him from an early age. While growing up, he was an avid participant in sports and games including wrestling, volleyball, bowling, chess and backgammon. At seven, his family moved from Dallas to Boulder, Colorado and with the Rocky Mountains nearby, Paul took up skiing.
On the first night of one particular ski-trip, he caught the gambling bug after winning $100 at blackjack from an initial $10 stake when visiting a casino après-ski. He didn't see much of the slopes that holiday but did come back with $17,000. Soon afterwards, his friend, Thomas Fuller, invited him to an underground poker tournament in Denver and Wasicka came ninth having only learnt the game on the drive from Boulder to Denver.
Paul admits to being somewhat obsessive and so, when he discovered internet poker, he was immediately hooked. Initially, he found he was able to win thousands of dollars on high stakes 'sit and go' tables only to go on tilt and lose it all again. On more than one occasion his friend, Fuller, came to his rescue both financially and as a stabilizing influence. The pair made a few thousand dollars each and, when Fuller returned to studying, Wasicka decided to go professional, devoting himself to online poker on a full-time basis, playing an estimated five thousand hands per day.
Without Fuller's steadying presence, Wasicka's first forays into a poker career veered between the brilliant to the reckless if he had taken a bad beat. So, instead, he decided to take a job managing his brother-in-laws restaurant and vowed to stay for at least a year. He still played in his spare time though and during this time he managed to get a handle on his tilting tendencies.
He kept to his commitment, despite earning over ten times his salary playing poker online but, when his year was up he was off to Las Vegas for the Five Star World Poker Classic. He won the satellite tournament and ended up fifteenth in the main event, earning $146,460.
Three months later, Wasicka returned to Vegas for the 2006 WSOP where he had money finishes in two tournaments and culminated in him becoming a multi-millionaire after coming second in the world championship event. After this, he was quiet in the poker world until 2007 when he took winnings of over $1 million in the first four months of the year, including a first place finish in the NBC National Heads-up Poker Championship after defeating Chad Brown. He may not be earning so much in big tournaments today but he still regularly finishes in the money.
Always seeking a fresh challenge, Wasicka got himself a golf trainer in the hope of turning pro in that sport too. He has advice for aspiring poker stars – not to overstretch your bankroll or focus your game on making bluffs. He claims to make at the most two or three bluffs a day, though you never know, given his competitive nature, he might be bluffing.
WSOP 2006
In the 2006 WSOP tournament, Paul Wasicka went heads-up against Jamie Gold, hoping perhaps to become the first Texan to win the Texas Hold'em event. The odds were stacked against him though as he was almost ten to one down on chips.
Wasicka won the first hand but in the second, Jamie Gold went all in after the flop and when he began goading Wasicka into calling him.
Wasicka thought it was a bluff. 'I think you're on a draw,' he said. But Gold had hit a pair of Queens on the flop and Wasicka's pocket tens were not enough as an A♦ was followed by a 4♣ on the river.
So although 2006 didn't see the end of that ironic WSOP Texas Hold'em statistic, it did see Paul Wasicka walk away with over $6 million as runner-up out of a record-breaking 8,772 entrants.
Last updated July 2013