Mike Matusow
---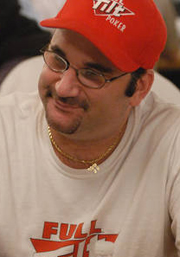 Nickname: The Mouth
Facebook: Mike-Matusow
Twitter: @themouthmatusow
Birthdate: 29th April 1968
Birthplace: Los Angeles California
Residence: Henderson, Nevada
WSOP Bracelets: 3
Biggest Win: $1,000,000
Total Winnings: $8,661,611
Sponsored by: Ex Full Tilt Poker
Mike Matusow, known as The Mouth, was voicing outspoken opinions from an early age, getting him into trouble and fights in his neighborhood. Growing up, he was competitive with a strong self-belief and like to play pool, go bowling and build racing cars. He initially wanted to train as a mechanic but instead skipped college, becoming a dealer at Sam's Town Hotel and Gambling Hall in Las Vegas. He developed a bit of a gambling habit on the video poker machines.
When he turned 21, his experience led him to play the real thing and he was a successful rounder. He specialized in Omaha Hi/Lo and began to build a favorable bankroll. In 1997, he entered his first major tournament at the WSOP and came second to Scotty Nguyen and the pair became friends. Although Mike didn't cash on his own accord in the following year's WSOP, the money he had lent Nguyen for a main event satellite earned him a $333,333 payout when Nguyen went on to win.
The year after, Matusow won a bracelet of his own at Texas Hold'em and in 2001, finished a respectable sixth in the main event. He confirmed his status as one of the world's best Omaha players in 2002, going one better than 1997 and gaining his second WSOP bracelet. Things weren't going so well away from the felt though and drug abuse, followed by bouts of depression, blighted his private life culminating in his arrest and imprisonment in 2004 for trying to sell cocaine to an undercover policeman.
After six months in jail, Matusow vowed to clean up his act and focus on his poker. However, he didn't manage to clean up his mouth and early on during the 2005's main event was forced to sit out of the game for forty minutes for swearing four times. But his poker spoke volumes too that year as he reached the main event's final table and became only the second player to achieve that feat since entrants had numbered 600 or more. It was the first of two $1 million checks Mike received in 2005, the second being in the WSOP Circuit Tournament of Champions final.
For the next three years tournament victories were quiet on the ground, even if Mike wasn't, but in 2008 he took his third WSOP bracelet at $ 5,000 No Limit Deuce to Seven Draw beating Jeff Lisandro, he cashed in $537,862. He continues to finish in the money at large games. Matusow's autobiography is called Check Raising the Devil that was published 2009.
Matusow often claims he is an unlucky player and it is true he's had his fair share of bad beats. But often, like his hand against Raymer in 2004, it is because he goes on tilt. Because of his talking and outbursts, he is a favorite of television producers though that means his poor plays often receive more attention than other players. He has even had the dubious privilege of getting a personalized expression to describe his tilting; a Mike Matusow meltdown or a Mike Matusow blow up.
Some critics say his talking and needling tactics affect his ability to read other players' games but Mike himself has a simpler theory for his 'meltdowns' saying, 'when I play good, I'm real good and when I play bad, I really suck'. He is the poker player many love to hate but he is unarguably watchable.
Mike Matusow's heart is worn on his sleeve and sometimes he is ranting but at other times shedding tears, as he did after being knocked out of the 2004 WSOP main event. However, Matusow is self-aware and self-deprecating man who has said, 'I know I talk a lot of trash', and that outside of poker he's 'an idiot when it comes to anything else'. Regardless of whether that's true or not when it comes to cards, his results prove he is a true poker power, except when he goes into meltdown.
NBC National Heads-up Championship
Mike Matusow was playing Mike Mizrachi in the 2007 NBC National Heads-Up Poker Championship. With its alternative billing of 'The Mouth versus The Grinder', it sounded more like a wrestling match but only Mike 'the Mouth' Matusow got to live up to his nickname. Matusow raised pre-flop with a A♠ 7♦ but Mizrachi's reply was to go 'All in' with Q♠ Q♥.
Matusow decided to call but must have wished he hadn't with the flop of 6♠ K♦ Q♦. He was quiet for a moment but when the turn card of 10♦ appeared, he said to a worried looking Mizrachi, 'that's a good card, that gives me eleven outs.'
Perhaps realizing Matusow actually had twelve outs, Mizrachi started pacing as Matusow added, 'you've got a plane to catch'. Both players were standing for the river card and when it came out J♣, Matusow could not hold back his glee. Laughing, Matusow walked towards Mizrachi to shake his hand. But in the style of a childish prank, he pulled it away from the bemused 'Grinder' at the last moment which brought on a new bout of mocking laughter. He finally shook Mizrachi's hand and leaning up towards the larger man's ear, he said, 'that's so sick', in between chuckles.
WSOP 2004
In another 'all in' situation for Matusow in the 2004 World Series of Poker main event, Mike found himself up against Greg Raymer, the eventual winner. The flop was 10♥ 9♦ 3♦ and Raymer had called 'all in' with A♦ J♦. Matusow seemed to be considering calling with two thirds of his chip stack holding just a 9♠ 7♠, a risky pair. 'Mike, you always had faith in your reads. Don't let your reads let you down,' Matusow said to no-one in particular. He called, adding to Raymer, 'Told you I was gonna bust you. You came after me'.
He seemed a little less sure when he saw Raymer's cards and shouted, 'No diamonds, baby'. The turn was a 2♦ and Matusow, taking off his shades looked visibly shaken. It didn't stop his mouth though and explaining his actions, he said, 'I play to win and I knew what he had. He had nothing'. Not an entirely accurate statement because Raymer was 56% likely to win the pot post-flop and when other players at the table tried to make that point, Matusow talked over them, saying, 'I know what's going on. Not many people have the balls to put it all in. I got no regrets'. Humble in victory, gracious in defeat, Mike Matusow is not.
Last updated July 2013