Gus Hansen
---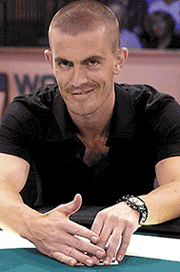 Nickname: The Great Dane
Facebook: Gus Hansen
Twitter: @RealGusHansen
Birthdate: 13th Feburary 1974
Birthplace: near Copenhagen, Denmark
Residence: Monte Carlo, Monaco
WSOP Bracelets: 1
Biggest Win: $1,714,800
Total Winnings: $11,210,072
Sponsored by: Full Tilt Poker
Hailing from Copenhagen in Denmark, Gus Hansen was a sporty child who enjoyed playing football and tennis. He also, like many poker professionals, had a passion for math which he used to calculate probabilities when playing backgammon. At 19, having learnt English from his Pink Floyd albums, Gus went to study at the University of California in Santa Cruz as an exchange student. Despite being underage, it was during this two-year period that he was introduced to Texas Hold'em in the local casinos.
Two years later, Hansen had to return to Denmark as part of his homeland's compulsory military service program where he trained in first aid and emergency rescue. In 1996 he returned to the US, to the East Coast this time, where he toured the New York backgammon clubs. That year, Hansen made one brief foray to Las Vegas for a no-limit World Series of Poker tournament but he was knocked out on the first day.
Back in New York, Gus met future pros Huck Seed and Phil Laak and began to concentrate his efforts on poker, trying to develop a playing style. For the next few years, he experimented with a mixture of approaches from tight to aggressive and he discovered that it was a combination of playing systems that suited him best, in addition to confusing his opponents.
In 2002, with his inimitable method well practiced if not quite perfected, Hansen was ready for the big tournament stage once more. He took first place in the Five Diamond World Poker Classic, part of the newly inaugurated World Poker Tour. The following year he proved that the WPT was his stage by winning the L.A. Poker Classic and another half a million dollars. Three in a row beckoned at the second Five Diamond Classic but this time he had to settle for third place. Just over a month later he took top prize in the WPT Caribbean Adventure and then, having turned 30, he won the WPT invitational Bad Boys tournament.
The three wins at WPT open event remain a record and saw Gus Hansen inducted into the WPT Walk of Fame along with Doyle Brunson and James Garner. During this time, Hansen also put some of his acumen and money into helping set up the online site Pokerchamps.com which was sold for around $15 million in 2005, it became betfair poker. He joined Team Full Tilt in 2005 and was the first announced ambassador for the brand after it was bought by PokerStars and relaunched in November 2012.
Gus Hansen is considered lucky, another accusation leveled at Gus is that he is a reckless player and there are times when he plays hands that seem to fly in the face of rationality. In the Poker Superstars 3 final qualifying round, he went 'all in' or made large bets for the first thirteen hands, often without looking at his cards. He won the first nine hands, shared the chips in the tenth before losing the thirteenth, having built up a massive chip lead. But, there was a method behind this madness as Gus had to get first place to qualify while his opponents, Chris Moneymaker, Phil Ivey and Freddy Deeb had to take second, third and fourth places respectively. The players at the table were cagey about risking everything allowing Hansen to take many pots that would have otherwise been contested. His audacious tactics paid off, this time.
Since then, Gus has continued entering tournaments and doing well, he won the first televised Poker Superstars Invitational, the European Poker Masters in London and in 2007, the Aussie Millions. In April 2008, he took his largest tournament payout of $1.7 million for a second place finish, once more in a WPT World Championship event. Coming 9th at a WSOP in 2009 earned him nearly $124,000, another WSOP in 2010 saw him get first place and a coveted bracelet and won him $444,925. 2011 saw him end a WSOP game with £283,966 coming 3rd. In June 2012 he came first in a WSOP event and this time banked a cool million dollars. Gus has had lots of rankings to his name to date and you can bet there will be more in the future.
Despite all this money flowing into Hansen's bank account, rumors have abounded that he as not as solvent as may be expected. This may be because of Gus's penchant for playing in cash games, he is a regular at the Big Game at the Bellagio, which often involves $1 million pots. Whatever the truth behind Hansen's finances, he is still enjoying the lifestyle of the rich and famous, travelling the globe from his base in Monte Carlo.
Gus is fond of sport and plays golf and football believing his fitness is important to his poker, giving him stamina for the increasing field sizes of major tournaments. He shares this ideology with Howard Lederer and the pair often train together at the gym. Hansen has also been voted into People magazine's top 50 sexiest men alive and on top of all that he is a bit of a poker philosopher. When talking about the reasons for his success he says, 'I play the players, not the cards', adding that it is important to 'learn to understand and read yourself before trying to understand or read anyone else'. In 2008 his book Every Hand Revealed came out.
Aussie Millions 2007
Some people say Gus Hansen is a lucky player but it's also said that you can make your own luck. In the 2007 Aussie Millions tournament, Gus was short-stacked going into the heads up against newcomer Jimmy Fricke. A few hands later and it was Fricke down on the chip count. Holding a 7♣ 9♣, Fricke called Hansen's bet and Hansen swallowed hard as the flop was made. The cards came out 6♣ 8♦ Q♦ and Gus, with almost three times as many chips, made a bet. Fricke, looking at an opened ended straight draw, decided to go 'all in.'
Immediately, Hansen called and turned over his cards, A♣ A♥. 'Sick,' Fricke is heard to say but Hansen, seeing that Fricke's hand is far from dead, strokes his closely cropped hair; a sign of self-reassurance. The turn didn't ease Hansen's worries as a 2♣ put Fricke on a flush draw as well. 'That's a sweat,' Fricke deadpanned while Hansen tried to ease his tension with a neck stretching exercise. The river was a 9♠ and Gus's pocket aces had held up, earning him $1.1 million. He looked relieved and a little embarrassed as he shook Fricke's hand. 'Well played', Hansen said. 'I had good hands' he added humbly.
Last updated May 2013