Freeroll Tournament Strategy
---
Freerolls describe poker tournaments which cost nothing to enter – but give away real cash prizes. They are a very popular form of recreational poker and regularly attract huge fields. Not only are the participants in these tournaments likely to be inexperienced when it comes to poker strategy but, there is a tendency to not take these games too seriously – resulting in some seemingly crazy play!
This article will look at how to adjust your tournament strategy for large field freeroll tournaments for those players who enjoy the challenge (and some financial benefits) of playing to win.
We will start by looking at the prize structure of large field freeroll poker tournaments as assess how this should affect your approach. Secondly we will look at building a stack during the 'crazy' early stages – noting the importance of implied-odds and ranges against opponents who move all-in frequently. Finally we will review the mid to late game and how additional strategy ideas come into the picture at this stage.
All poker tournaments have 'top heavy' payment structures, freerolls are no exception to this – often paying just a few cents for the first 'in the money' places, with most of the prize pool reserved for the final table. It follows that reaching the final table just once will pay for many of these small cashes. Good tournament players accept that there is a risk of busting out before getting to the money when you play 'only' to reach the final table. They also understand that longer term profits will come from taking these risks, since the final table will pay for 10 or more 'bust-outs' before the money paying places.
At the beginning of a large field freeroll tournament the final table can seem like a very distant prospect. First you will need to navigate the 'minefield' of inexperienced or just plain crazy opponents. Understanding what the basic errors that these opponents will make (both knowingly and otherwise) will help you adapt your strategy and accumulate chips.
First we will look at the really wild players who push all-in with a wide range of hands before the flop. These players often have a 'big stack or bust' attitude. If a player is pushing all-in with 30% to 40% of hands (any pair, any ace or any 2 picture cards for example) then you will often find profitable situations. Calling with half of the range that these players go all-in with here – for example 88+, A10+ and KQ – you will get unlucky and lose sometimes but, this can be an excellent opportunity to build a stack in the early stages.
Other players will call too many bets before the flop with easily dominated hands such as weak aces, calling all the way to the river if they hit the flop in any way. Avoiding those same hands, and 'value betting' those times you do hit the flop will show a profit against these types. Conversely, you should cut down on bluffs against those same loose / passive players – the danger of being called is too great.
As the field is thinned and the blinds increase you will need to take stack sizes into account in your decision making during a large field freeroll tournament. Play positive and aggressive poker at this point in the tournament – always try to be the player raising, rather than the one calling a raise. This will give you 2 ways to win the pot as your opponent may fold. Avoid playing pots with very large stacks and very small ones unless you have a strong hand, both of these types of player are more likely to call you.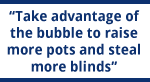 The bubble, even in a freeroll, will see many opponents 'tighten up' to reach the money. Take advantage of this by raising more pots to steal blinds and antes. You will need to be aware that the 'loose and crazy' situation will return as soon as the money is reached, here you can call raises with a similar range to the 'all-in early' range mentioned above – your objective is to reach the final table, not to move up a few cents in the money.
Large field freeroll tournament strategy is all about adjusting to the play of inexperienced opponents. Your objective needs to be the accumulation of chips through the various stages of the tournament in order to have a chance of reaching the final table. Taking the loose nature of opponents and stack sizes into account will help you to do this. Good luck!